Anfang Dezember bekam ich einen Anruf von Klaus, er erzählte mir voller Vorfreude von Ihren Hochzeitsplänen im Januar und das Sie sich nun doch spontan für einen Fotografen entschieden haben. Nur kurze Zeit später war auch ich Feuer und Flamme.
An einem traumhaft schönen Wintertag, dem 26. Januar feierten Tamara & Klaus Ihre Liebe auf der urigen Sankt Martins Hütte in Garmisch-Partenkirchen. Kennen und lieben gelernt haben die beiden sich vor vielen Jahren in Australien. In Sydney gaben sie sich bereits das offizielle Jawort und nun folgte die Feier in den schneeweißen Bergen.
Eine gemeinsame Leidenschaft sind Ihre Huskies Nanuk und Azar, die beiden zogen den Bräutigam stilecht und samt Schlitten bis zur Hütte.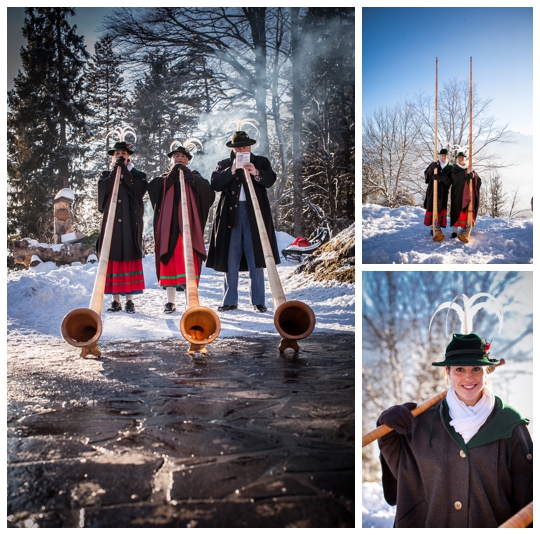 FALLING IN LOVE IS LIKE OWNING A DOG
Poem by Taylor Mali
(…)
On cold winter nights, love is warm.
It lies between you and lives and breathes
and makes funny noises.
Love wakes you up all hours of the night with its needs.
It needs to be fed so it will grow and stay healthy.
Love doesn't like being left alone for long.
But come home and love is always happy to see you.
It may break a few things accidentally in its passion for life,
but you can never be mad at love for long.
Is love good all the time? No! No!
Love can be bad. Bad, love, bad! Very bad love.
Love makes messes.
Love leaves you little surprises here and there.
Love needs lots of cleaning up after.
Sometimes you just want to get love fixed.
Sometimes you want to roll up a piece of newspaper
and swat love on the nose,
not so much to cause pain,
just to let love know Don't you ever do that again!
(…)
But love makes you meet people wherever you go.
People who have nothing in common but love
stop and talk to each other on the street.
Throw things away and love will bring them back,
again, and again, and again.
But most of all, love needs love, lots of it.
And in return, love loves you and never stops. 
Für mich gab es an diesem Tag auch ein Jubiläum: Es war vom Brautpaar gewünscht, dass die Gäste den Berg hinab rodeln und da dachte ich mir: "Das lass´ ich  mir nicht zwei Mal sagen!" …und hui ging es mit der gesamten Hochzeitsgesellschaft den Kramer hinab, gefolgt von nur wenigen Schritten bis ich Zuhause war.
Ein Dankeschön und ein Hoch auf dieses herzliche Brautpaar!